Topical - Archive
24 October 2012
Time for Roygalan again!
For the 10th year in a row Roygalan is celebrated, this time at the China Theater in Stockholm. And for the third year the Prize stauette is delivered by the artist and (2012) handed over to the winner Jesper Kouthoofd Inc by Roy Andersson himself.
Roygalan >>
15 September 2012 12.00 -16.00
Invitation to vernissage
Separate exhibition "Clay, life and lust - danceimaginations" at Galleri Hantverket, Götgatan 65, Stockholm. From 15 September until 4 October.
Welcome!
Pressrelease (Swedish only) >>
Galleri Hantverket website >>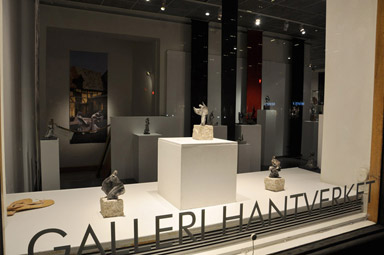 12 June 2012 13.00
Inauguration of Childrens Garden in Karlslund, Örebro
Dragon eggs and gigant apples...
The artist has, together with landscaping arcitect and other artists, developed a part of the the park into a more playfull place.
Be very welcome to the inauguration!
Information broshyre about the new part of the park (Swedish only) >>
Örebro kommune pressrelease>>
SVT report about the inauguration (video)>>
SR about the inauguration >>
Pictures from Örebro kommune site >>

9 June 2012
Händelseriket is still getting attention!
More articles about the use of Händelseriket, Karolinska Huddinge at Hjälpmedelsinstitutets site.
Read about recommended playground Händelseriket (Swedish only) >>
Read the whole story (Swedish only) >>
1 May 2012
Article in the lokal paper Mitt i Bromma - "På gränsen till grotesk" ("Close to be grotesque")
Sometimes one find oneself mentioned in less flattering context...
About the fox behind the ear at Ängskolans schoolyard.
Read and judge for yourself (Swedish only) >>

28 April - 16 May 2012
Ankomst (Arrival) - collective exhibition in Stockholm, Konstnärshuset, Smålandsgatan 7
Participating: the artist along with other new members of The Swedish Artists Society (SKF, Svenska Konstnärernas Förening) during 2011.
Inauguration 28 April 12.00-16.00. Welcome!
Open Tuesday-Wednesday 12-17, Thursday 12-19, Friday-Saturday 12-16
Konstnärshuset (Artists House) in Stockholm >>
February 2012
Exhibition in Stockholm, Officebuilding Nybroviken Birger Jarlsgatan 2
Inauguration 15 February 18.00-20.00. Welcome!
Invitation to Vernissage >>
Artwork >>
November 2011
New book: Konsten i Söderort (Art in southern Stockholm).
Eivy and Hans Harlén hav put together a nice compilation of the public art in southern parts and suburbs of Stockholm. The artist is represented by the Mosaicapples in Stureby.
Buy the book >>

17 October 2011
In Family Unity – Unity of the World.
Opening day of the international exhibition. MGIMO, Moscow.
Artist participates with "The first memory of my father", concrete sculpture/ photoprint on acrylic glass.
Read more about the exhibition >>
20 October 2011
Roygalan at Rival in Stockholm.
Together with Roy Anderson the artist last year skulpted the Prize for the Roygala. This year 20 more Roystauettes were delivered for the event, and the artist will participate during the galaevening.
Read more about Roygalan >>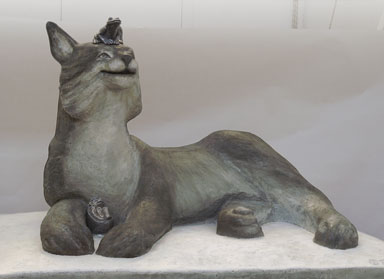 October 2011
Källängens totem Lois with friends has been completed for some time.
The work will not be installed untill 2013 during delay in the builders entreprenad process. Lois will be waiting in the atelier, and it is possible to lend the sculpture for exhibitoions and events.


18 June 2011 at 3.00 PM
Vernissage summerexhibition at Marsvinsholms sculpturepark.
The beautiful castle and its park are situated close to Ystad in the south of Sweden. The artist will be present at the opening and her artwork will be for sale >> in the park and gallery all summer.
Open 19/6-28/8 daily 11-19.
Very welcome!
Marsvinsholms sculpture park >>
Press: Night magic >>
All press, links >>
March 2011
The artist will participate in the summerexhibition at Marsvinsholms sculpturepark 2011.
Visit their website >>
February 2011
The artist is working on project Källängen kindergarten.
Foundation is casted in concrete and the Lynx is beginning to take shape.
January 2011
KKV (Konstnärernas kollektivverkstad i Nacka, the workshop were
the artist produces her art) in media and press, due to the threat
of its survival.
26/1 Svenska Dagbladet (SvD), Reed the article (Swedish only)>>
20/1 The Swedish Artists National Organization (KRO) supports KKV in pressrelease, Reed the pressrelease (Swedish only) >>
19/1 KKV part II on Swedish TV, Kulturnyheterna 19.00 and 22.35
Stockholm City Cultural Departement has decided to cut down KKVs granted support into half. What will happen now?
18/1 KKV part I on Swedish TV, Kulturnyheterna 19.00 and 22.35
KKV - Live or die? Stockholm City Cultural Departement is about to decide cutting down KKVs granted suppurt into half. The artist is among other interviewed on the news. Protests and demonstrations outside City Townhall.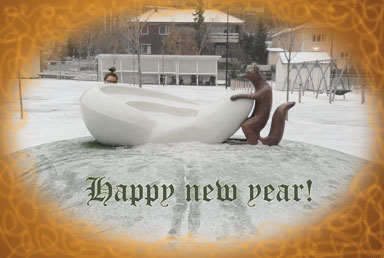 December 2010
Starting up project Källängen kindergarten.
Contact artist to see work in progress.
October 2010
Working with Roy Anderson, sculpting the prize for Roygalan.
Roygalan takes place 20/10 in Stockholm.
Read more about Roygalan >>
DagensPS: Winners 2010>>
Resumé: Pictures from Roygalan>>
Film&TV Producenterna: Pictures from Roygalan>>
September 2010
Working on a portrait for bronze.
Private collector.
23/8 2010
Inauguration: Ängskolan art, schoolhouse and schoolyard.
Official inauguration take place at schoolstart 9.00.
The artist will be present at the spot 9.00 am and 17.00 pm.
Address: Vackra Vägen 6-8, Sundbyberg.
Read more about the rebuilding at Ängskolan in Sundbyberg >>
Springtime and summer 2010
Working on project Ängskolan.
Contact artist to see work in progress.
December 2009
KKV at Youtube.
See the movie www.kkv.nu >>
November 2009
Skanska artsociety byes the concrete sculpture "Winged man".
See the artwork Winged man >>
21/10 2009 kl 18 - 21
Open workshop at KKV, Nacka.
Come and see artwork in progress, have a cup of coffe in the café or by a pice of art directly from one of the artists.
Read more at KKVs website >>
3-4/10 2009
"Konst i Roslagen" - open ateliérs.
Participating as a guestartist with some concrete sketches
at Perry Steins ateliér.
See Konst i Roslagen >> for more information.
14/9 2009
Ängskolan - starting up the production fase.
After months of preparations the creation begins!
2009
Invited artist in the project of (re)making a schoolyard at Ängskolan, Sunbyberg.
Working with landscape arcitects from Taggen (among other project members). Making sketches and drafts, aiming to incorporate the art naturally in the entirety of the schoolyard. Orderer: Sundbyberg Stad.
www.taggen.se >>
24 - 25/3 2007
Papíer–maché workshop
Participated in the Mongolian sculptor G.Logiiraz workshop at University College of Arts Crafts and Design.
15 - 17/3 2007
Exhibition: Participates ART DAYS in Saltsjöbaden centrum Open Thursday & Friday 10-19, Saturday 10-15. Welcome!
15/2 2007
Saachi Web Gallery
Accepted personal invitation from Anita Sahni to participate on the Saatchi Gallery site >>
14/2 2007
Swedish Artists
Accepted invitation to participate on the Svenska Konstnärer (Swedish Artists) Web Gallery >>

12/1 2007
Participation in Avisen-avk Artcontest 2007/Sculptures
Vote for MohaEagleBear (C7) -
from 16th of January untill 15th of May 2007! >>
13/12 2006
LuciaArtMarket at KKV in Nacka
Invitation to all artlovers and artbuyers.
Please reply before 11/12
Read the invitation (in Swedish) >>
1/11 2006
Händelseriket
Projektet avslutat. Invigning under våren 2007, datum meddelas senare.
16/9 2006, 14.00
Vernissage
Group exhibition at Galleri Plaisiren
Stockholm, Hässelby
9/6 2006 17.00
Vernissage "ONE EACH - STOCKHOLM"
Group exhibition at KULTURHUSET / Galleri 5
in Stockholm, Sweden
Exhibition continues 2006.06.09 - 2006.09.10
Kulturhuset site >>
KKV site >>

15/5 2006 14.00
Händelseriket
The first cut with the spade was taken by Kajsa Bergkvist
and a child in the park of Karolinska University Childrens Hospital in Huddinge. In this connection, a presentation of the project was exhibited.
Read about it in SVTs ABC lokal news (in Swedish) >>
See it happen in SVTs ABC lokal news 17.55 (in Swedish) >>
Presentation (in Swedish) >>

29/4 2006
Vernissage
Group-exhibition at AQS Art Gallery in Tumba.
Exhibition continues untill 12th of May.
AQS Art Gallery site >>
19/1 2006
The website gets a new host and the domainname: fornhed.se
1/1 2006
Public decoration
Commissioned by the Cultural Department of Stockholms Läns Landsting to decorate the park of Karolinska University Childrens Hospital in Huddinge
Händelseriket
Read about the project (in Swedish) >>

19/11 2005
Norra Ängby Trädgårdsstadsförening
Interviewed by the lokal paper NÄT
Read the article (Swedish) >>>
10 - 11/11 2005
Attended the first Swedish Concrete Fair Betongfeber
at Infracity in Upplands Väsby, Stockholm.
Invited by the Swedish Concrete Association/
Svenska betongföreningen
Object exhibited: Dragon in love.
PDF 98kb >>>
October 2005
Take a look at Ann-Charlott's brand new purpose built
garden studio.
PDF 454kb >>>
26 -28/8 2005
Exhibition in Tranås, Sweden
Konstrakan i Tranås
Konstrakan i Tranås public site >>>
March 2005 - October 2005
Project Kulturkraft, Stockholm
Read about it (Swedish only) >>>
2005
Participated in a competition on decorating a roundabout in Landskrona
December 2004 - January 2005
Project "Meetingspaces"
Made a model on how to decorate Z-square in Östersund
6 - 14/12 2003
Florence International Biennale of Contemporary Art
Invited to the fourth edition of the Biennale, City of Florence, Fortezza da Basso
My space at the Biennale >>>
International site of the Florence International Biennale of Contemporary Art >>>


------------------------------------------------------------------------
<<< Back